CDP
NANSEDY &
SAYON HOME
NANSEDY &
SAYON
INTRO/BIOS

NANSEDY &
SAYON
WORKSHOPS
NANSEDY &
SAYON
PERFORMANCES
FAMOUDOU
KONATE
NORTH AMERICA
CHICAGO DJEMBE PROJECT HOME PAGE
---
Visit frequently for site updates! To get on our mailing list, contact
THE CHICAGO
DJEMBE PROJECT

Lilian Friedberg,
Artistic Director
Jim Banks, Manager
2849 E. 93rd St.
Chicago, IL 60617
t: 773-251-8067


Past and current contents of this site ©1999-2005 the Chicago Djembe Project. May not be re-used or reprinted in any form without permission.
NOTE FROM CDP:
These pages were created for Nansedy Keita and Sayon Camara's first visit to North America in November-December of 2002. The workshops and performances were very successful and enjoyable. We hope to bring Nansedy and Sayon back in the future. Watch this space for updates, including photos from their workshops and performances in Chicago in 2002.
---
DIRECT FROM GUINEA TO CHICAGO!
NANSEDY KEITA
Second Soloist in the Famoudou Konate Ensemble
Famoudou Konate's Nephew
with SAYON CAMARA
Djembe Soloist and Famoudou Konate Apprentice

Nansedy Keita performing in Europe with the Famoudou Konate Ensemble, Summer 2002
The Malinke Djembe Drumming Tradition from Hamana returns to Chicago!
Fresh from his role as Second Soloist on Famoudou Konate's 2002 European Tour, Nansedy Keita brings his tremendous skills and knowledge to the United States for the first time--along with his talented fellow Konate apprentice, Sayon Camara.
Don't miss it!

AFRICAN DRUMMING WORKSHOPS & PERFORMANCES
Chicago, November- December 2002
"I have great confidence in my nephew Nansedy's knowledge. These workshops and performances will be a splendid representation of the unique musical heritage of the Malinke people."
--Famoudou Konate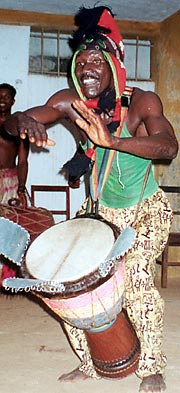 Sayon Camara performing in Nansedy Keita's Ensemble, Guinea, New Year's Eve 2001