---
FK2K4 Toronto: Famoudou Konaté Djembe & Dundun Mini-Camp, Friday-Sunday, June 18-20, 2004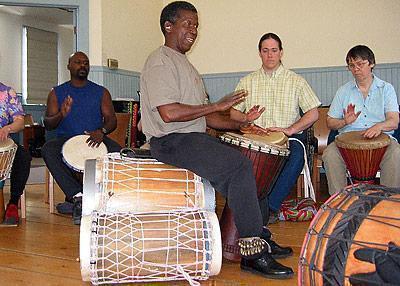 FK2K3: Famoudou teaching in Portland, Maine
3 different, 4-hour intensive workshops, one per day
Workshop 1: Friday June 18: 6 p.m. to 11 p.m.
Workshop 2: Saturday June 19: 1 p.m. to 6 p.m.
Workshop 3: Sunday June 20: 1 p.m. to 6 p.m.
Pricing (Canadian residents, proof required):
Price per workshop: $120/CAD
Advance registration discount price, if received prior to June 04, 2004:
$110/CAD per day
$310/CAD for all three days
Bonus discount price for all three days, if received prior to April 30, 2004:
$300/CAD for all three days
Youth under 17: $90/CAD per day
Pricing for US residents will be the same as for Chicago workshops, in U.S. dollars.
Workshop Location:
York University, Keele Campus
Dacary Hall, Rm. 050 in the McLaughlin College Building
Toronto, ON
Directions/Map:
A map of the Keele Campus is available at http://www.yorku.ca/yorkweb/maps/york2d/index.htm
McLaughlin College can be accessed from Ian MacDonald Blvd. McLaughlin College is located in the top central area of the map, due south of the Founder's Rd. entrance to the campus, marked #51 on the map. The nearest visitors parking lot is the Founders Rd. East Lot, marked #66 on the map.

FK2K3: Famoudou teaching in Toronto
Registration:
$100/CAD deposit required for advance registration, balance must be paid by June 04, 2004. Cancellations fully refundable if received prior to June 04, 2004
To pre-register for Toronto workshops, contact: Anna Melnikoff, 416-944-3589, bolokelen@sympatico.ca or send check & registration to:
FK2K4 Toronto c/o Anna Melnikoff
243 Gerrard St. East
Toronto, ON, M5A 2G1
Please included your full name, address, contact info, and which workshops you would like to register for with your registration fee. Please make checks payable to Anna Melnikoff.
Hotels/Motels:
Once the location is confirmed, there will be a short list of inexpensive local accommodations posted on this page.
Other accommodation listings available at http://www.toronto.com/section/accommodations
Workshop Info:
Please bring your own Djembe. If you have Dunduns (kenkeni, sangban or dununba) and are willing to lend them for the duration of the workshops, please contact Anna Melnikoff prior to June 14, 2004, bolokelen@sympatico.ca or call 416-944-3589.
Sponsored by:
Bolokelen Malinke Percussion
Anna Melnikoff, Artistic Director/Instructor
243 Gerrard St. E.
Toronto, Ontario M5A 2G1
Canada
416-944-3589
bolokelen@sympatico.ca