FK2K3: Famoudou teaching in Toronto
FK2K4 Famoudou Konaté Workshops:
The Mini-Camp Workshop Format
A Famoudou Konaté Mini-Camp is 3 to 5 days of intensive workshops. Each 4-hour workshop (one per day) is the equivalent of 3 typical, 1 hour/20 min. U.S. workshops, breaking out of the shorter format to give students the experience of studying with Famoudou as they would in Africa or Europe. Each workshop builds rhythms from bottom (bass drums) to top (djembe solos) with significant hands-on experience and contact with Famoudou for everyone.
Students learn and play the bass drums as well as the djembe, so that their knowledge of the rhythms is complete. Famoudou has used this teaching method in Europe and Guinea for the last 18 years, and has a long track-record of producing well-rounded, highly skilled djembe students.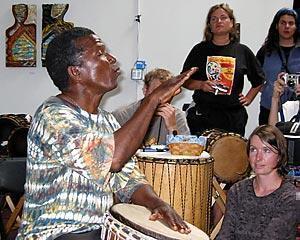 FK2K3: Famoudou teaching in Portland, Oregon
Famoudou teaches bass drum parts, djembe accompaniments, dundun/djembe échauffements ("heating up" to end a solo), solo techniques, variations, and his own composed beginning and ending arrangements. The amount of material he can cover depends on the overall skill level of the participants.
Famoudou is a patient and skilled instructor who has taught students with varying degrees of proficiency for many years. If there are both beginners and more advanced players, students will be assigned parts according to their ability so that everyone can get the most out of Famoudou's instruction.
Don't miss the chance to study intensively with a preeminent figure in worldwide djembe culture and one of the few, true masters of The Malinké Djembe Tradition. Students from FK2K through FK2K3 were taken on a unique journey into Malinké culture which left them informed, enthralled and inspired. So start making plans to be part of the 2004 Mini-Camps!
---
Videotaping is not allowed. Audio taping is permitted for participants' personal use. Students are expected to respect Konaté's rights as a Master Musician and Professor by not publishing, broadcasting or web-publishing (via books, articles, videos, internet mailing lists or websites) the instructional content, recordings, notes and notation from these workshops without Famoudou's written consent.