---


Hooked On Drums:™ Bringing the Life-Changing Power of African Drums to Urban Youth
Our partner organization Hooked On Drums™ brings the upbeat, inspiring rhythms of West African djembe drumming to kids in urban Chicago. Hooked On Drums offers artistic residencies, ongoing classes, workshops and performances at schools, parks, neighborhood groups and community organizations.
More than just a way to "blow off steam" or "keep kids off the street," Hooked On Drums gets kids hooked on authentic, traditional music, allowing them to explore African heritage while sharpening their minds on a complex musical idiom. And the rhythms are irresistible!
Hooked On Drums is deeply committed to teaching African music as a vehicle for fostering creativity, curiosity, discipline, self-confidence and well-being in youth—above all, inner-city, at risk youth.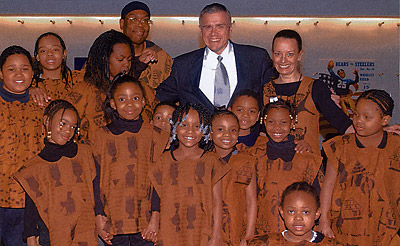 Kennicott Park after school students, Chicago Parks Superintendent Timothy J. Mitchell
(top-center), Jim Banks and Dr. Lilian Friedberg (top left/right), after performing at a
Soldier Field Chicago Park District youth awards banquet in April 2004.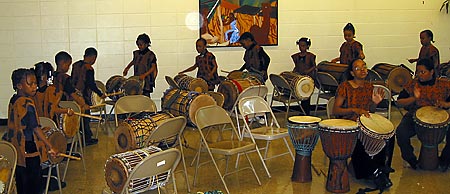 Kennicott Park (Chicago) after school program: students performing at the end-of-year recital
for the 2003-4 school year.
Past programs have been offered at:
Kennicott Park After-School Program (Chicago Park District, Kenwood)
Logan Square Neighborhood Association
Nicholson Specialty School (South Side)
Brilliant Beginnings Pre-School (Kenwood)
Hinton Elementary School (South Side)
Bass Elementary School (South Side)
Byrd Academy (near Cabrini-Green)
University of Chicago Lab School (Hyde Park)
FutureWorld After-School Program (Hyde Park)
St. Paul and the Redeemer Church (Hyde Park)
AurorArts Alliance (Logan Square)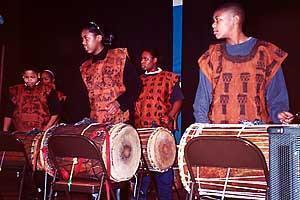 Lilian's Hinton Elementary School students playing dununs
at the program's finale performance, February 2002.
Contact us about bringing a youth program to your school or organization.
Visit the Hooked On Drums Website, www.hookedondrums.org, for more information, videos and photos.
Hooked On Drums
Jim Banks
2849 E. 93rd St. Chicago, IL 60617
t: 773-251-8067 e: info@hookedondrums.org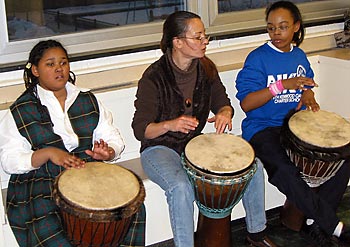 Dr. Lilian Friedberg with djembe students from the Kennicott Park
after school program in Chicago, 2003-4 school year.
---
CURRENT CLASSES | ABOUT HOOKED ON DRUMS | ADULT/TEEN DJEMBE WOODSHED WORKSHOPS