---
Where it Began:
A Tribute to Silvia Kronewald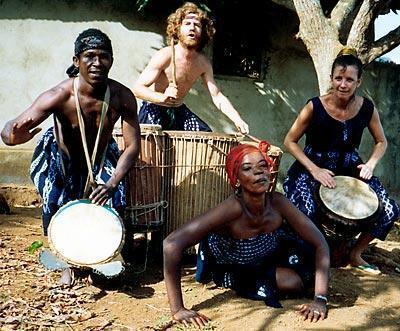 The Famoudou Konaté '80s-'90s Ensemble. L-R, Famoudou Konaté,
Paul Engel, Fanta Kaba, Silvia Kronewald
From an (as of yet) unpublished book about women in drumming, edited by Jaqui MacMillan (1999)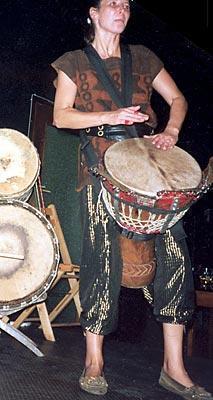 I remember the place, if not the time: it was in Eckernförde, Germany. On the Baltic Sea. Sometime around 1985. Two drummers had come from Berlin to perform before a small but appreciative audience. I'd never seen anything like it. A long-haired, scrawny guy with swollen hands who looked like a throwback from the sixties and beside him, a petite, dark-haired woman without a sign of wear or tear on her hands. That was my introduction to the Djembe drum: Silvia Kronewald and Paul Engel, the 'Djembe Tubabu' duo. I was awestruck: How could anyone produce so many sounds from the head of just one drum? And this woman: she wasn't any bigger than I, yet she danced across the stage with a drum half her size--her hands on the head of the drum doing things I'd never imagined possible.
After the show, I approached them: "Where did you learn how to do that?" I asked. To Silvie, I said, "How long have you been doing this?" and was surprised by the answer: 8 years. "Is that all?" I couldn't believe one could achieve that level of proficiency on any instrument in such a short time. I knew then that I had found a teacher--not only in the drum, but in Silvia Kronewald.
Silvia Kronewald was the first of the professional European women djembe drummers, and she was the best. She set a precedent by holding her own on stage for many years with Famoudou Konaté and his ensemble in Europe. Behind the scenes, she was the one who organized the workshop and concert tours, cooked dinner for the whole 5-member ensemble and, usually, ended up doing the dishes. She labeled the tapes by hand, prepared the djembe rings for lacing, but most of all, drummed like a master. Famoudou Konaté once said of her, "Silvie is proof of the fact that women can drum just as well as any man." And with that, I am certain that he included himself among the many men.
Silvie was not only a role model for hundreds of women, she was a teacher and a great source of inspiration to strive to play the djembe with skill, sensitivity and strength. And it wasn't only European women whose lives she touched--as one of the first European djembe drummers to have spent significant time in Africa, she also inspired African women to reclaim their own drum traditions.
She used to say, "When I am 45, I will have a women's drum group." And I knew she was counting on pulling together the best of her students. I'd always hoped to be among them. But that day will never come. Silvia died of cancer in 1997. Shortly after her death, two white squirrels appeared outside my window playing in Martin Luther King park. In the tradition of my Ojibwe ancestors, this was a sign: Silvia's spirit was leaving, stopping by my place to play along the way.

Famoudou Konaté, Silvia Kronewald and Paul Engel
There is one thing I know: None of us will ever compare. Silvia Kronewald is in a class of her own. We are all indebted to this frail and fragile woman with a spirit stronger than steel. People in the European drum community know: Silvie gave her life to Africa. It was the rigor of constant travel to Africa, of organizing workshops and concerts, of performing day and night that took her last breath of life. A quarter of a century after Silvie took up the drum, we are grateful that she had the courage it took to become the first--and the best.